In a word, Yes.
Google Affiliate Network is shutting down.
In GAN's typical "automation is better than relationships" manner, they announced the closing of the Google Affiliate Network in a blog post.
Yep.  A blog post. (Read the official blog post from Google regarding the closing of GAN here.)
[features_box_grey width="75%" + border="2px"]

[/features_box_grey]
Apparently, Google didn't find the personal touch of a massive customer relations campaign that personally contacts each merchant, followed by a private email blast to all GAN Affiliates (at a minimum) necessary.
Apparently, there was no need to tell employees before the announcement was made via the blog post, either.
Instead, everyone learned of the closing of GAN via the blog post.
Very interesting.
The tone of my remarks are uncharacteristically rude and sounded rather mean spirited; this wasn't entirely intentional.
But these are the facts, as I know them.
Many Merchants, Affiliates and OPM's that relied upon GAN are now finding themselves in a precarious situation that needs to be addressed.
Affiliate Marketers with their fingers on the pulse of Affiliate Marketing
I first heard of the closing of GAN from Tricia Meyer (my partner in affiliate marketing awesomeness here at AffPlan) on her blog at Tricia.me where she answers the question for merchants, "What to do now that Google Affiliate Network is Closing".
She has her finger on the pulse of Affiliate Marketing and works extensively with all the major networks.
I, however, do not work with GAN, so it won't harm my business at all.
Some OPM's, though, are also feeling a crunch from the announcement and must take action for their clients — launching affiliate programs for their clients on alternative networks, like ShareASale (my network of choice!).
My friend (and fellow ShareASAle Lover), Greg Hoffman owner of OPM Firm, Hoffman Consulting, wrote an article on his blog called "Migrating Affiliate Programs from Google".
Already, some Affiliate Marketers are publishing help and commentary on the closure of Google Affiliate Network.
Merchants are already starting to announce their plans.
Those merchants who pay attention to blog posts as their primary method of learning about the closure of important vendors' services, now know that the GAN platform will no longer be available to provide affiliate tracking solutions.
Luckily for some merchants, GAN was simply one of the networks they ran on, and they can simply tell their existing affiliates to swap their GAN links for their other affiliate tracking solution.  (These multi-network merchants run affiliate programs on more than one affiliate network or platform, in an effort to maximize their reach.  I bet they never contemplated the side benefit of mitigating risks such as the closure of a network.)
However other merchants, like Orbitz.com, are now in a mad scramble to find alternatives to GAN.  Moving networks is not a fun prospect for the Affiliate Manager.  (Often, the tech department is not pleased, either!)
[features_box_grey width="75%" + border="2px"]

[/features_box_grey]
Sometimes, relaunching a program is a solid "cleansing" process, whereby a program is pruned of "dead weight" — but this method of "house cleaning" is rather extreme and used as a last measure.  Affiliate Managers will expect a hefty amount of affiliate attrition with a change like this.
UPDATE:  Impact Radius is offering a migration assistance for former GAN Merchants.
The good ol' Days, and a History of GAN
I remember way back in the good ol' days, when I ran a company I founded called "Kowabunga! Marketing", where we provided Affiliate Marketing Tracking and Management Solutions (for In-House Affiliate Programs), a little company out of Chicago called Performics.  It was well-respected and focused on servicing large internet retailers.
Several years later, they would be sold to DoublClick.  Soon thereafter, they were sold to Google.  With that purchase, Google entered the Affiliate Marketing Business.  (More so than just providing simple AdSense Ads, which I do not consider Affiliate Marketing.)
Eventually, Google sold off the brand "Performics" (and the Search Marketing Services business the division provided).  Now, Performics (the brand) is simply an agency in the space.
Now, several years later, Google finally made the decision to kill off this business.
Google is now out of Affiliate Marketing.
[features_box_grey width="75%" + border="2px"]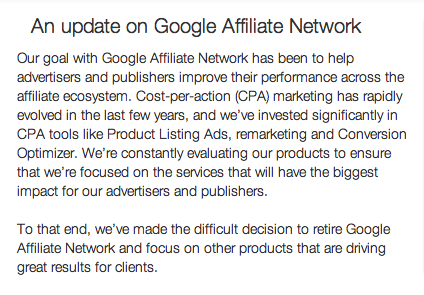 [/features_box_grey]
I was never a big fan of Google Affiliate Network
A few years ago when I made my first list of the top Affiliate Networks, I had given Google Affiliate Network my most controversial review.  You can read how harsh I was on GAN back then.
NOTE:  It's always scary to say anything negative about anyone in your industry, for me.  Especially if the industry is relatively small and tight knit.  Especially if you're a person who doesn't like to stir up controversy.  Especially if you're talking about "The Google".  😉
The Death of Affiliate Marketing.  (Again.)  (And again.)  (And again.)
With all the data that Google has, all the information and experience and brain trust Google has gained over the years, the closing of a large Affiliate Network may reignite the never-ending claims of "The Death of Affiliate Marketing".  But, to me, Google was never really interested in the Affiliate Marketing space and held on for a few years longer than they really wanted to hold on anyway.
Good bye GAN.