I learned of TweetAdder type twitter marketing and automation tools in late 2008.
With all of the spammy DM's and @messages from marketers who created twitter profiles and used twitter marketing and automation tools to grow their follower numbers and promote certain products, I thought these twitter tools were going to be a fad.
I was wrong.  (Boy was I wrong!)
Since I didn't expect the whole "automate your twitter marketing efforts with software" to live very long, I didn't intend to tell you about it.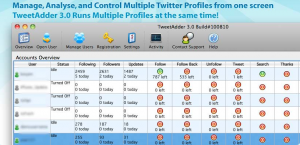 Now, fast forward to August of this year.
I have three very close personal friends who have been leveraging Twitter (and other social media) substantially to drive traffic to their niche affiliate websites.
During my conversations with them, we discussed Tweet Adder and their intentions to give it a shot.  We follow-up every week or two, and they'd tell me how their twitter numbers are improving significantly.  I'd also learn of their little tips like "run it slow and steady — don't blast it too hard".
Now (roughly 4 months later) all three of these affiliate marketers have nothing but impressive results and rave reviews.  (Since our discussions are private, I must adhere to my "FrieNDA" — which means "A Non-Disclosure Agreement between friends" — therefore, I cannot publicly name their sites or their specific results.)
I for one, will be implementing Tweet Adder on at least one of my affiliate website social media accounts.  (I may use it for the "Building An Affiliate Website for My 11 Year Old Son" Production in the Affplan Video Training Series, and document the whole thing.)
I talked with the good folks over at Tweet Adder, and they gave me a Tweet Adder Coupon Code that I can give to my readers!
All you need to do is enter "FARM20" during the checkout process, and you'll get a 20% off rate for any purchase of Tweet Adder.
Have you used Tweet Adder?  I'd love to hear more feedback, tips and suggestions.