Well, it was a tough decision, but I finally made it and chose a winning logo from 99Designs.
45 logo entries from 8 different designers had my head spinning.  There were so many great logos!
During the decision making process, I kept flip-flopping on which logo I would select.
Would I choose the one closest to my original design brief?
Would I choose the one that was most unique and stood out among the others?
Would I choose one from the designer that put in the most work and effort?
Would I choose the one that was most popular among my friends who reviewed all the logos and commented on the blog?  (There wasn't a clear winner from these comments, btw.)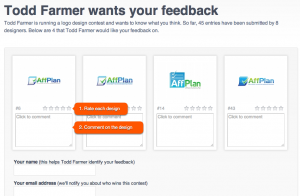 What I ended up doing (after consulting with my AffPlan Partner, Tricia Meyer), was narrowing down the 45 choices into the top 4.  I selected these top 4 from our personal preferences and the top choices from our blog comments and facebook comments, private emails and skype chats.
From there, I created a poll within my 99Designs logo contest, showing only the top 4 designs.
Then, I asked friends on facebook and twitter to give me their feedback.
Guess what happened?
My personal top 2 favorites were virtually TIED.  (Apparently, they were the top 2 choices of my friends, too!)
Ugh.
Now what to do?
Here's my thought process:
The top two designs were from the same designer.  (Luckily, this is also the designer that put the most work and effort into the designs.)
I reviewed the detailed comments from those who selected each of these designs as their #1 choices.
I determined that a couple simple alterations to one of these designs could blend the best of both of these logos into a single, super logo!
I hope you agree that it worked.
Here's the final logo:


Once I received this logo from the designer (he provided .jpg, .png, .psd and the original .ai versions) I went to work implementing the logo here (at affplan.com) and on the new Premium AffPlan Membership Service (you'll see I got a slight variation for the Member's site).

I then changed AffPlan's FB Cover Photo to include this new logo.
Phew!  It's done!
Now, I get to go back into all the videos and documents I've made for AffPlan's Premium Membership Service and re-brand all of those files with the new logo.  (I may back-burner that while I focus on making more training videos!)
99Designs is a great logo resource.
It's not the same as having a professional designer guide you through all the intricate elements of design, branding and messaging, though.
If you're just starting out your business, you may need more than just a logo.  In that case, you'll need to find an experienced, high quality design professional who can understand your business, your needs and objectives — then help convert your vision into graphics and other visual aids to communicate such with your audience.
But, if you simply need a great logo design from talented, eager-to-please designers, then I highly suggest you start a logo contest at 99Designs.
What do you think about AffPlan's new logo?
Did we make a good choice on the new logo?  (If you say "no", I really don't know what I'll do!)  😉