Affiliate Marketers build a lot of websites for their respective niches, and one powerful way to build a website chalked full of merchant products and content is by using datafeeds.
"But datafeeds are so complicated!"
Yes, they can be.
If you want to use data from multiple affiliate merchants across multiple affiliate networks, then yes – it can be complicated.  Great solutions for this need are provided by DataFeedr, Popshops and GoldenCan.
And, if you're trying to pull in discounts, deals and coupons from multiple merchants across multiple networks, datafeeds can be even more complicated!  Luckily, ForMeToCoupon is a great solution that powers most of the major players in this space.
…but what about a simple datafeed?
How can Affiliates use a datafeed that doesn't cost a dime, and is super easy to impliment?
The answer:  ShareASale's tool called, "Make a Page".
As I've mentioned earlier, I am documenting the entire process of how I'm making an affiliate site for my 11 year old son, Evan.  The affiliate website he's making is all about Video Games, and is found at VideoGameKid.com.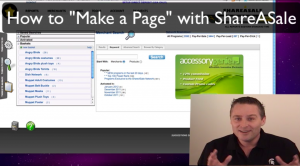 On this site, we decided to display some products related to Angry Birds.  (He loves Angry Birds.  I kinda do, too.)
During the documentation process, I needed a super simple solution that allowed me to pull in some Angry Birds Merchandise (from multiple merchants) and show video game enthusiasts some cool Angry Birds stuff, as well as great gift ideas for gamers.
I turned to ShareASale.
I simply logged in, and found products with "Angry Birds" in the name.  I added them to a ShareASale "basket", then simply used the "Make a Page" tool to build me a nicely formatted page with all the Angry Birds items I wanted.
That's pretty much it.
Datafeeds can be complicated.  They can be messy.  They can take time, energy and money to implement.
But, if you're looking for a simple way to use datafeeds on your affiliate websites, then check out ShareASale's "Make a Page" tool.
I have documented exactly how I implemented this on VideoGameKid.com, as part of my free video training series here at AffPlan.
Please check out the video, and let me know what you think!  And, give the "Make a Page" tool a shot. 
Related:
AffPlan Strategies Session Podcast:  "DataFeeds Galore" with Eric Nagel and Deb Carney