…and not just in my own mind!
Affiliate Summit (the premiere Affiliate Marketing Conference) honors a few select professional Affiliate Marketers every year, in their "Pinnacle Awards" ceremony.
I like to think of them as the Oscars of Affiliate Marketing.  (Don't agree with me?  I don't care, darn it. 😉
This year, the awards ceremony took place at the Affiliate Summit West Conference, in January 2011.
The Pinnacle Awards are:
Affiliate of the Year
Affiliate Manager of the Year
Exceptional Merchant
Affiliate Marketing Advocate
Best Blogger
Affiliate Marketing Legend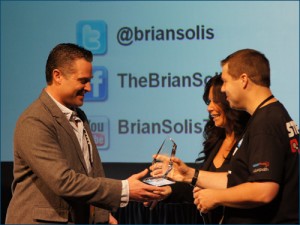 …and this year, I won the "Affiliate Marketing Legend" Award!
Whoo-hoo!
In my acceptance speech, I started with, "I told myself I wasn't going to to cry…"
Okay, so I'm not really a "legend", (and I didn't give a speech) but I truly am honored to have received the Affiliate Summit Pinnacle Award, "Affiliate Marketing Legend".
"But, Todd – you won that award in January!  Why did you wait so long to make this post?"
Yes, yes – I've been chastised by many of my friends in Affiliate Marketing, because I haven't publicized my award, and I didn't even make a simple blog post about it.
Why?
Well, I have two reasons justifications for procrastination.
1)  I don't like to toot my own horn.
I'm simply not good at it.
The way I live my life is, "The proof is in the pudding", "Actions speak louder than words", "Judge me on what I DO, not what I say"….  You know, the normal mid-west modesty thing.  But, I do need to learn how to do this better.
2) How do I properly acknowledge the gravity of this honor considering those who've previously won?

It's crazy to see my name next to my predecessors who've been honored in this category.
Do you know who else has won this award over the years?  They are huge people in this industry, and I'm humbled to be counted among them.
Previous Winners are:
2006:  Wayne Porter (this award was named after him!)
2006:  Tim Storm
2007:  Todd Crawford
2008:  Brian Littleton
2009:  Kellie Stevens
2010:  Scott Jangro
2011:  Todd Farmer  <– that's me.  Wow!
3) It's the "Legend" Award, for goodness sake!  
It's like a "Lifetime Achievement" Award.  So, I guess I can retire now?  (kidding! no way!)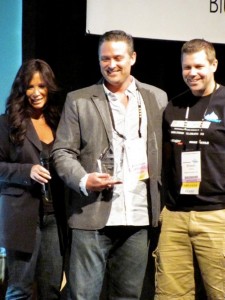 Okay, so those are my reasons for taking so long to do this.  But today, I hit "submit" and publish this post.
Why now?
Well, the new 2012 Pinnacle Awards will be presented just over a month from now.  It would be wildly inappropriate to publish this any later than now.
So, I'm finally going on the record to (1) Tell you about this milestone in my Affiliate Marketing career, and (2) Thank you all for your support.
I hope to see you at Affiliate Summit!
Want to see the Video of the Awards:  http://www.youtube.com/watch?v=-gzfMHtk5_k